This week we are mostly wearing…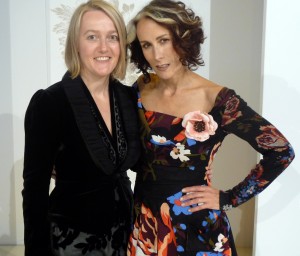 It's not often you get to see a pic of Jane my other half.
Here we are relaxing after a hard day's shows at 'How to Look Good on your Wedding Day,' at the National Wedding Show, at Birmingham N.E.C.
I say relaxing, but as all but the completely disinterested can see, we are actually posing.She does not have a massive ego like me and therefore has never wanted to be in front of the camera or on stage. I on the other hand have devoted decades to my media profile which is why you see more of me than the enigmatic Ms Galpin.
Of course she makes an exception for brides and those of you with excellent vision will see her in the background on Channel 4's How to Look Good Naked," and Ten Years Younger. But usually Jane will look the other way when someone gets a camera out.
So here, is a rare sighting of the lesser-spotted Jane Galpin immaculately attired in this season's lace trend and finished off with the most darling jacket – it gives her such great shape at the waist and bust doesn't it?
She swears she only shops in her local boutique in Gloucester where she lives, but the success of her style I say, is all down to knowing which garments will flatter her shape and my God she's good at that!
You can trust us madam we're experts. Over and out!