Bodies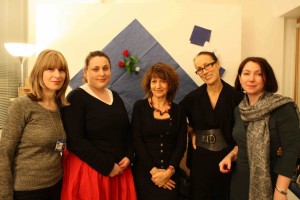 I attended a book signing of 'Bodies,' by Susie Orbach as a panel member for a debate along with Susie herself (centre) and journalist Tanya Gold (in red) who writes about diets for the Guardian.
It was a very insightful evening as around 100 women talked about food and their bodies. I was of course asked all sorts of questions about the way the fashion industry works and I was very glad to answer them fully.
And I talked about my own body and my feelings towards it, which for the last 20 years have been completely celebratory.
It's very important to me having had a sister struggle with anorexia, that women can see clothes and fashion as tools to have fun, dressing up to celebrate all that we can be to ourselves and others and enjoying our bodies is our right. But I do know that those same clothes and fashion industry dictates can generate a lot of stress.
I have always enjoyed offering clarity about the industry and the way it works! And both these subjects and much more, I discuss in Ageless Style, aimed at women over 40 who are looking for image guidance and a no nonsense take on how to look good as we get older.
It was a special night for me since psychiatrist Susie Orbach is a spectacular thinker – she is behind the Dove Campaign for real Beauty amongst other things.