This week I am wearing labels on my shoes!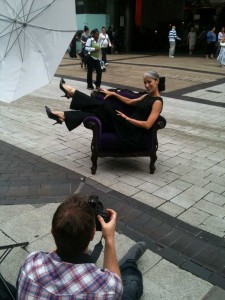 Another day another photo shoot, this time it took place, rather eccentrically I think, in full view of shoppers in Birmingham with the largest prop this side of Newcastle.
The purple chair and I are promoting the How to Look Good road show to take place in September 23rd to 25th September in the Pavillions Shopping Centre as part of the Style Birmingham Live Weekend hosted by George Lamb.
Decked out in new season John Rocha and enjoying my latest acquisition from Kurt Geiger (a pair of kitten-heel sling-backs finally making their way into my wardrobe) the moment of serenity was challenged, when one helpful shopper pointed out that I had committed the ultimate style faux pas by leaving the label on the underside of my new shoes.
Ha Ha, I had to take myself off and smack my own bottom, as she twittered furiously of my foolish amateurishness for all to know. I quashed the internet chatter by asserting that Marc Jacobs is considering a new collection of clothes featuring labels sticking out and I was merely ahead of the game …I think they all bought it!
Normal service will be resumed in time to deliver top style tips for the Pavillions audience.