Gloriously Middle Aged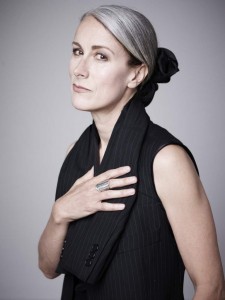 And on the subject of realistically achievable images. My latest press pictures seen here, have no post production on the face, hair or body.
Why did I feel it necessary to leave stray hairs and skin, emboldened by the passing of time, UNPROCESSED?
Because having worked on All Walks for the last two years and being involved in the Lib Dem Body Confidence campaign – so much so I almost misplaced my fashion day job completely what with all the visits to the House of Commons – I am willing change proactively, not just by professional initiatives but also my personal actions.
So here I am gloriously middle aged in my up-cycled tailoring by Junky Styling and my militantly grey hair…loving it.
Of course that's not to say my marvelous photographer Chris Floyd didn't employ a little old fashioned technique for those of you interested in your photography history. He confirms… "Nothing retouched at all.  Just old fashioned lighting and digital equivalent of traditional darkroom techniques (colour, tone, contrast and density/brightness)."
Aging naturally is practically a political statement in itself.