Looking good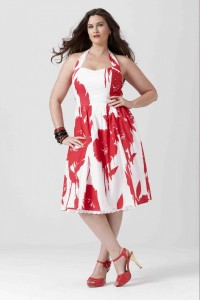 I wanted to indulge my passion for a bit more retro and show you what I've been up to at the same time.
This is one of my dresses. Yes the labels all have my name in them as part of my collection for Simply Be and I'm really pleased with the way this lovely 50's style sundress has turned out.
As you know I love to discuss the features on clothes and how you can select the best figure fixing looks for your shape so let's have a look at this one together.
I love the big juicy print, which works wonderfully for curvy shapes to balance the body. I chose this because it was the biggest I could find. A small print just wouldn't have the same authority and coverage.
Next, see how the halter neck with wide set straps also creates a minimising effect for the shoulders to play down fullness there too. A halter neck that is placed centrally will widen shoulders.
This tip can be worked just as well if you have large, square or sporty shoulders.
But if you are self conscious about the tops of your arms then how about this little device? The mesh at the top of this dress, covers quite a bit of shoulder width and creates a smaller area of flesh to view.
Added to that the empire line (high waist) will always make legs look longer.
There are lots more great designs at Simply Be and of course loads to say on the subject of understanding fashion, clothes, ageless style and bodies and I've been busy putting a lot of it into a filmed piece for the net.