Erika is my first blonde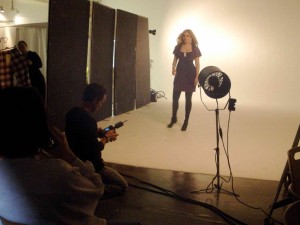 You could be forgiven, when you look at those studio shots of beautifully styled women, for thinking that there is just the model, the photographer and the stylist in the room.
Today I've been working with a huge team to create the latest catalogue photographs for my collection for Simply Be.
Erika is my first blonde. I'm a brunette woman normally but only because Simply Be is full of girl next door types and I like more of a smoulder. Hey she's is equipped to do the full sizzle and she is giving it some 'Wellie' creating about 60 poses per minute – I kid you not!
It's a great party atmosphere with 'name that tune,' being played as various 80's sounds from Japan, the Associates and even Visage are belted out. Maria my stylist, is ever attentive and walks in and out of shot to straighten a rebellious clothing ruck whenever it appears, Lizzie darts in to check hair and make – up while Sophie our seamstress – on hand to do alterations – is steaming each outfit ready to go.
Miranda, the Senior Womenswear buyer is very understated (so much so that I just added senior to her title because I'm thinking it's just not grand enough) but she's the big cheese and discusses each shot with Art Director Jo while Brian takes the photographs. Luke is his digi assistant and Tim his photographic assistant are permanently hovering and then there's me enjoying the scene and writing my blog – well what else is there to do?
Actually in my defence I've already done my bit putting my understanding of how the features on each item of clothing can flatter your bodyshape and now I'm enjoying the fruits of my labours. The autumn collection is looking hot!