Double booked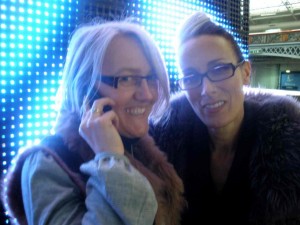 As London Fashion Week begins, I find myself double booked!
Last season I was able to bring you ringside seat views of the new looks and of course my insider's take on what you would be wearing 6 months ahead of time.
Now fashion week has been brought forward it has rather put a spanner in the works.
So instead of taking my seat in front of the catwalks to view designer offerings, I am on stage at Olympia for the start of the three-day event that is National Wedding Show! This is a regular gig that Jane and I have had as a company for about 6 years so there is no question of missing it.
Of course we will be dispensing our usual body shape and styling advice not just for brides this time but for mother of the brides too.
Here is both of us rehearsing for said do. It was so cold that all crew members were wrapped up in Artic outerwear. Jane as usual in on the moby sorting something or someone out. I on the other hand only have to worry about looking marvellous on stage! It's a tough job but someone has to do it.