Militants in shapewear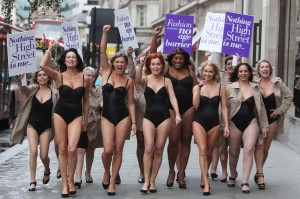 It's not often I see a picture that makes me smile from ear to ear – hardened fashion hack that I am – but this one sums up the state of play in retail for middle aged women.
And so appreciative am I that these militants have braved the January chills in nothing but their Shapewear, to make a point, that I am taking a moment our of a packed schedule to talk about it.
It's a neat stunt. And having just interviewed some shop managers in a very plush department store, I can concur from the accounts of those particular ladies that the clothes they stock are not designed from an emotionally considerate or even practical perspective. "We've lost count of the time women tell us they would have spent more on clothes if they were suited to an older body," they told me!
Sleeves, longer lengths, more support, higher necklines…small things not much to ask. 
isme.com
, call themselves a new home shopping brand providing fashion and homewares specifically for the modern, mature woman and say they have the answer. Get back to me with your findings please ladies.