Happy Ever after.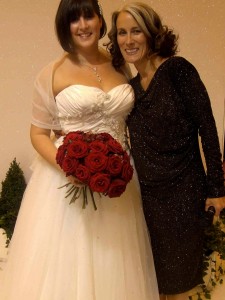 It's National Wedding Show at Earls Court and I'm reveling in Bride make-overs, (NEC next week)  here I am caught mid pose with lovely Nicki who has had the full monty during our How to Look Good make over show.
I'm all mustered to post the photos we took on our facebook page too as long as you'll excuse my 'snaps' But it was great to hang out at the How to Look Good clinic and help with image anxieties!
There are lots of photographers here too and I am reminded that the lovely Sarah Bowles who shot our models for the home page is a wedding photographer and I've been meaning to tell you about her for an age.
She works with Simon Fernandez and they have been involved in the picture business for over ten years. They are two friends who got together one day to photograph friends weddings, and BOOM! She says, "We like to keep our Wedding photography very spontaneous and very real, working in an unobtrusive manner so not to intrude on the natural flow of your day. We cover Weddings all over the UK with packages to suit every budget."
It's always a risk to book someone you don't know but take it from me she is a good woman and she put all our 'models,' at ease.