Time Warp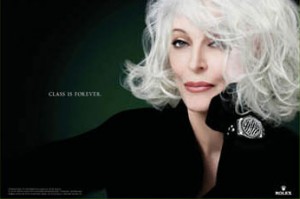 There's a lot of conversation about the beauty we see in our media and how it effects us. I should know…the need for beauty diversity one of my pet subjects.
So I'm taking this opportunity to salute the lovely Carmen Dell'Orefice who, in her eighties, is still strutting the catwalks for high end names like Alberta Ferretti.
But wait, you could be forgiven for thinking the woman featured in this advert is not Carmen but her 35 year old niece… that's digital post production for you!
Not sure why she needed 45 years shaved off her actual age to advertise a quality watch, but perhaps there's a hard-to-work-out visual pun to be made around time keeping here!
Of course we have our own 'octogenarian super,' right here.
And, as I was with Daphne Selfe of Models 1, only yesterday as it happens…(we were chatting about her packed modelling schedule)  I've enclosed this picture to remind us all that beauty is still beautiful when skin is enlivened by the passing years.
No time machine needed here!