Maria is made up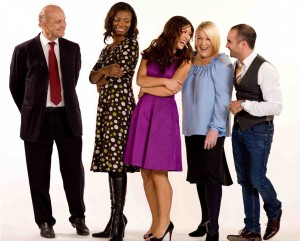 Jane roped me into creating the live show for the Channel Four TV show 10 Years Younger. Regulars will know she is the fashion producer for both the above programme and Gok's How to Look Good Naked.
Writing two live shows is one thing but on Thursday out of the kindness of my heart and well, because she paid me, I forewent all opportunity to bolster my tan in the Caribbean heat wave we are having and rehearsed them at Earls Court 2.
Today having tweaked everything  I then rehearsed Myleene Klass who is the presenter of the show, and after that, in a break from tradition, I got to sit in the audience and watch a makeover show rather than perform it.
Maria the lady you see in red, volunteered to the rather harsh judgment of the crowd who guessed her age. (Apparently you viewers love it when the programme does that bit). It was quite shocking to see how upset Maria was about that.
The team however went to work and she had the full treatment including teeth whitening, hair colouring and a cut.
Must say the difference was spectacular and as you can see she transformed from long grey haired, black garb wearing, fashion reluctant to this marvellous vision of Diva in red dress with 'arm candy'. Jane had of course passed on all our figure fixing tips and Maria agreed that she would chose clothes to flatter her shape from now on!
She was happy and so was I. The great thing about working backstage instead of front of stage is that you don't have to have to don the full Monty – you know big hair and heels. I padded around in comfortable flats and waived a clipboard around a bit and then left early, while everyone else was still on stage.
I could get used to that!