I love my job or perhaps I've already said that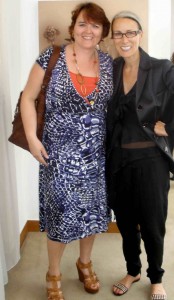 Yesterday I was at the marvellous House of Fraser to style three Vodafone competition winners Marianne from Scotland, Amanda from Manchester and Kathleen from Birmingham to be precise!
I love a makeover as it gives me the chance to get out all my styling tools and pass them, on making sure that all the what to wear to flatter your shape tips in my e-books still ring true.
Both Amanda and Kathleen were top heavy and firmly wedded to their plain top and jeans combinations.
As my brief was to get them into skirts or dresses the game was on to challenge their comfort zones and I gave them lots of encouragement to take an ageless style approach try something new.
House of Fraser currently offer a far superior selection of labels (loving their new Liquorish range and of course Untold and Therapy), but it was Kaliko and Whistles; concessions in the store, that provided a great fit for both gorgeous girlies pictured here.
Kathleen would never have tried leggings she said, but ended up loving them and Amanda pictured above was delighted with the minimising effect of a colourful vest under a wrap. (All explained in your e-books)
They had previously had a bra fitting at Bravissimo at my insistence and were both found to be wearing band sizes that were too loose and cup sizes that were too small. With new Bravissimo both were jubilant at finding their waist and a better shape so easily.  Yes I love my job. I really do.