Couture Show celebrates curves!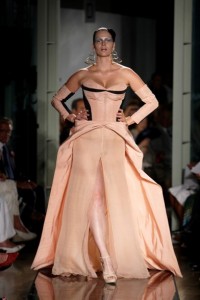 There is a growing change as the fashion industry embraces bodies that are womanly and aspirational…after the two aren't mutually exclusive.
And when I saw this picture of Tanya Gervasi, modelling in the Rome couture shows for Gattinoni, I just had to share it.
THAT'S WHAT I'M TALKING ABOUT! Of course as designers fit each garment in a bespoke way to the individual model it is the perfect way to showcase more diverse bodies.
It's great to see small changes step by step and this comes as more colleges agree to sign up to the All Walks diversity pledge to bring more curves to the training of students of design for Ready to Wear. As you know I recently collected an honorary fellowship for the work of All Walks and I'm feeling rather pert myself!
I'm hoping images like these will become less of a rarity. But for now enjoy!